---
Fiesta Barcelona 2000
---
Since this page will be viewed by international people, I'll write in English. For those who missed the beginning, I used to work in the same location as Christophe, at Sema Group's building in Fontenay sous Bois. We all missed him when he decided to move to a more sunny city, so I was delighted to hear he was having a house warming party in Barcelona. Besides, I had neved been there, so this was an opportunity to discover the city.
Saturday, September 11
I arrived at Christophe's place at about 4 pm. A few people are already there. We prepare the food and the drinks for the party.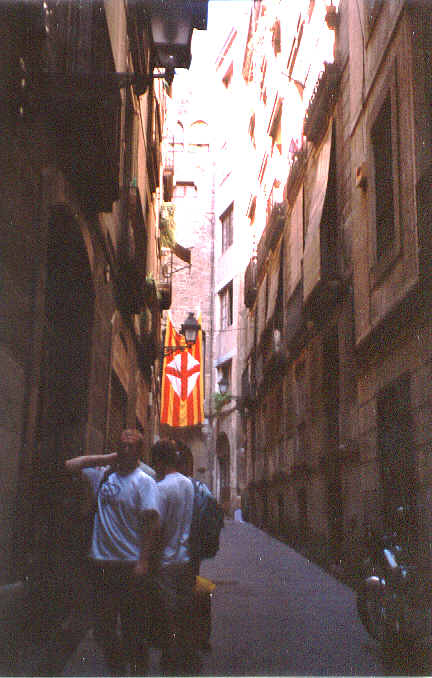 Christophe lives in the oldest part of the city
Christophe is always in good company

These delicious nems were made by Kim and Caroline

Our DJ at work
We had to end the party early because of the neighbours, so we went to a night club nearby. Sorry, there are no pictures - anyway, Christophe wasn't allowed to do his famous "gogo-dancer show".

Sunday

We take a train to go to the beach, it's only a few stops from the town center - if only we could do that in Paris ! We have a swim (the water is still warm), then we have a picnic on the beach. Kim and Caroline have to go to the airport, it's very hard for them to leave. They almost missed their plane (they checked-in 15 mn before departure). When they're gone, we stay on the beach for a while, having a drink and doing some babe-watching. Then we go back to Barcelona. After a quick shower, we visit Güell park, one of Gaudi's masterpieces.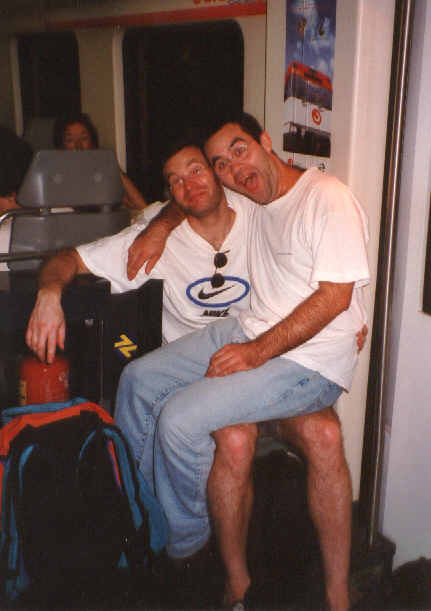 Christophe and his friend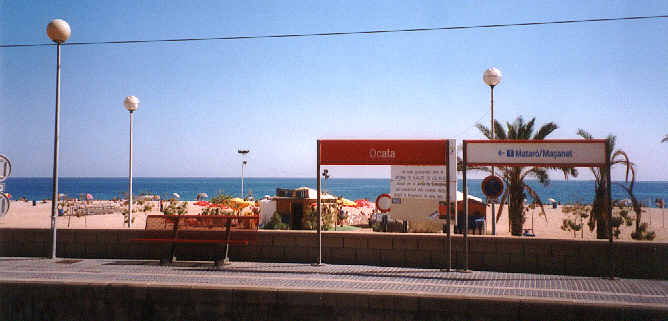 The train station next to the beach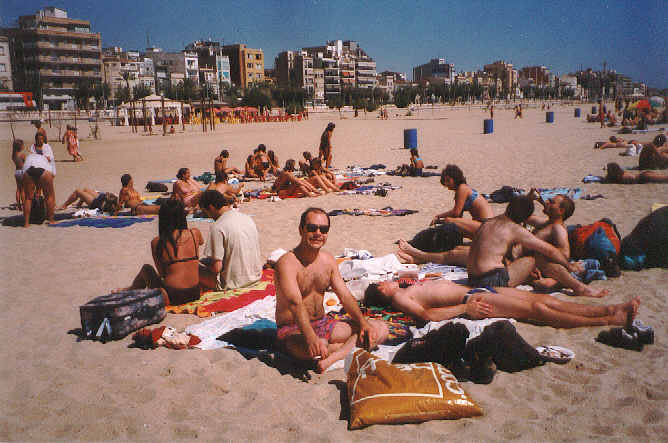 The picnic on the beach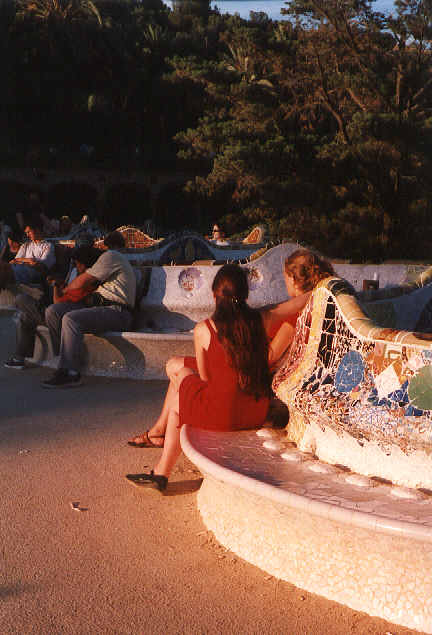 The longest bench in the world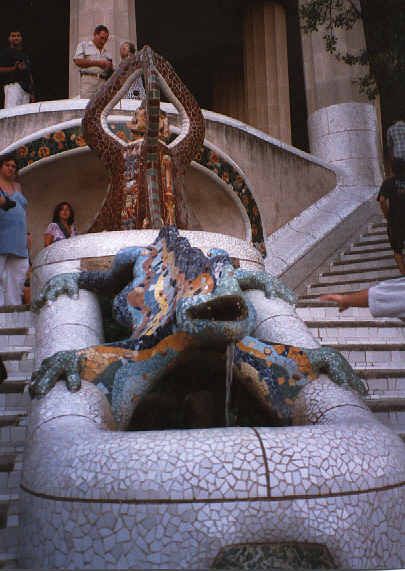 Fountain at the entrance of Güell Park
Monday
We sleep late, and in the afternoon, we visit the "Sagrada Familia" (holy family) temple, a church whose building was started by Gaudi at the end of the 19th century, and will be finished in 2040...
.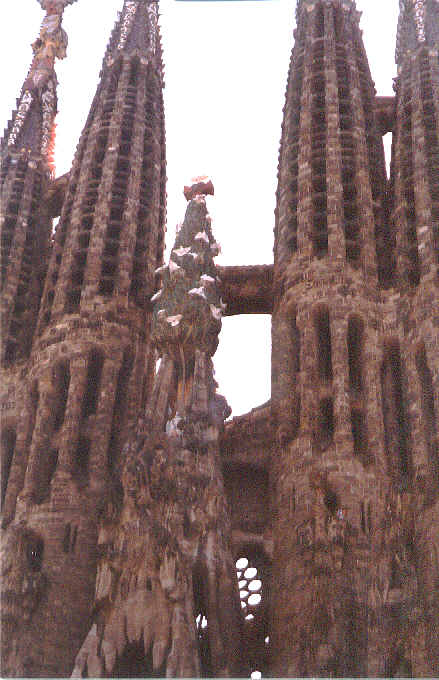 The Nativity side of the church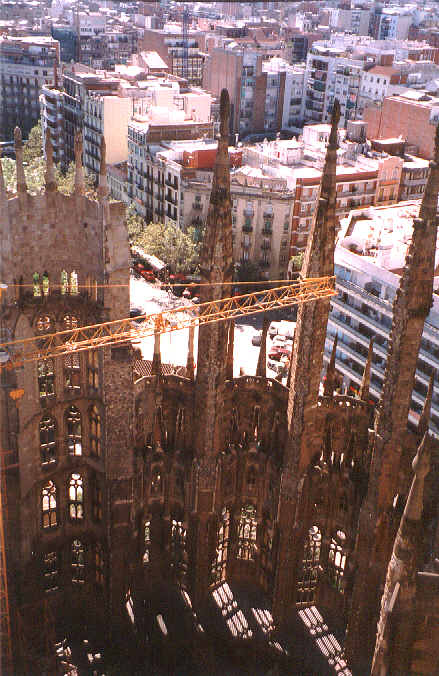 The central part is still under construction...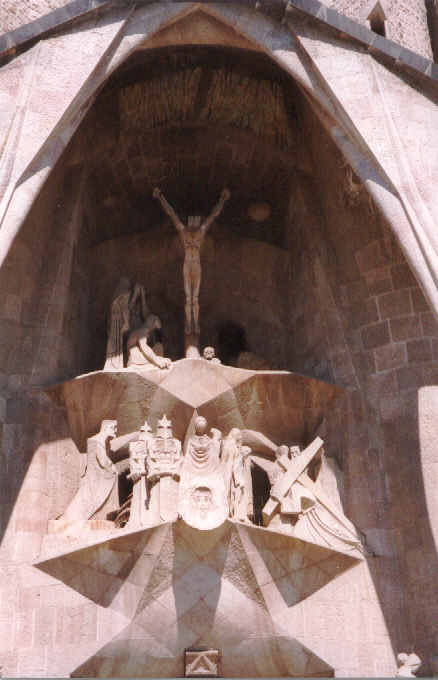 The Passion side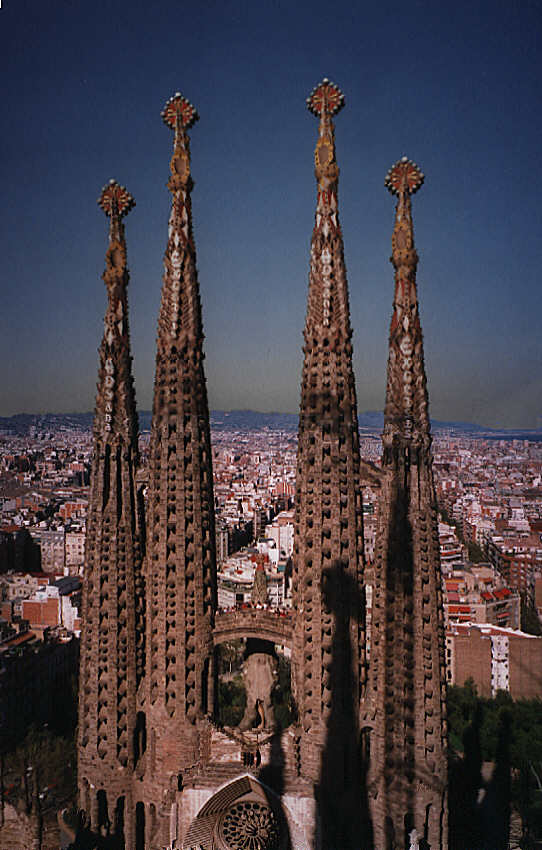 The Nativity side, rear view from one of the towers above the Passion side.

There's a small stairway inside each tower - very impressive.

I had to digitally combine two pictures to get the picture above - the towers are 110 m high,

and when the chuch is finished, it will have a central tower 170 m high.